About Vaisakhi Day
Every April, millions of Sikhs world-wide celebrate Vaisakhi Day, a day that marks the New Year. Considered one of the most important festivals in the Sikh calendar, parades celebrating the event are held in Sikh communities around the world. One of the largest occurs in Surrey, where 80,000 - 200,000 people attend the annual Vaisakhi Parade and Celebration, making it one of the largest Vaisakhi parades outside India.
Read more...
Parade Preparations:
Preparations are underway for the 2015 event, scheduled for April 18th. Community organizations interested in submitting an application for a parade float need to apply to…
Read more…
Record Breaking Attendance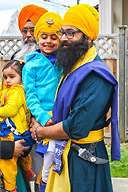 Despite heavy afternoon rain, Surrey's Khalsa Day Parade' the world's largest Vaisakhi parade' drew in between 240,000 - 250'000 guests of all cultures and religions to the peaceful' family-orientated celebration' according to the Surrey RCMP.
Read more...
Parade Route
Attendees of all cultures are welcome at the Surrey Vaisakhi Parade, which begins at the Gurdwara Dashmesh Darbar Temple (12885 85th Avenue in Surrey).
Read more...
Temporary Stages Along Vaisakhi Parade Route
Read more...

Parade Procession Guide
In total, over 2500 participants representing 20 community organizations will participate in this celebratory event, with thousands more celebrating the spirit of Vaisakhi in roadside booths along the parade route.
Read more...